Laser hair removal is the most effective method for eliminating unwanted hair permanently.
All our Epilia centres are equipped with cutting-edge technology: Alexandrite lasers from Candela. Candela has been the world leader in aesthetic lasers for almost 20 years.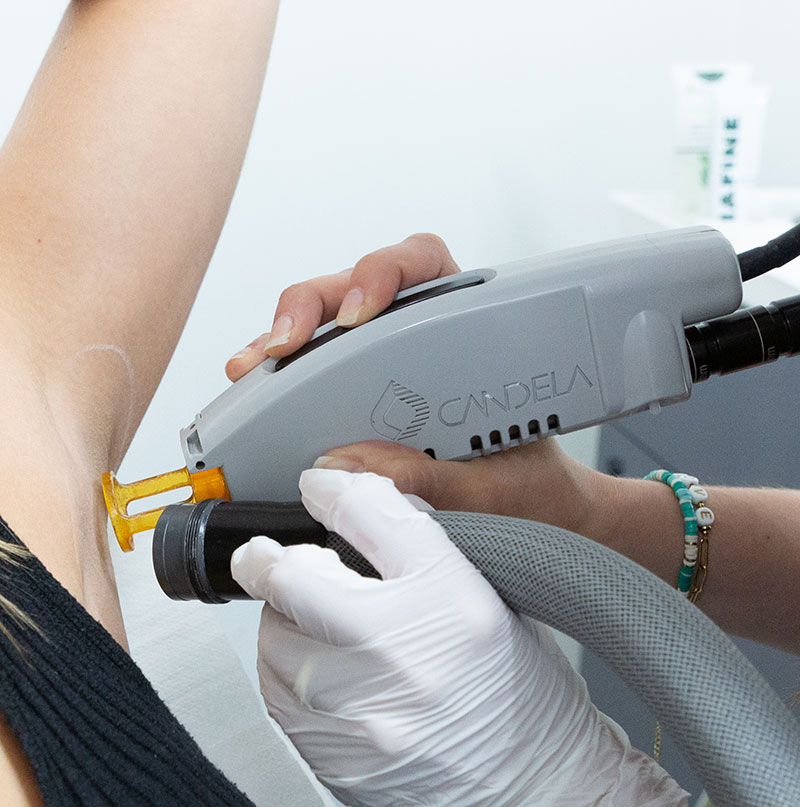 These high-performance lasers guarantee permanent hair removal under the safest possible conditions.
Let us explain the benefits and how this highly sought-after technique works for those who want smooth, hair-free skin.
Laser hair removal: a safe solution for getting rid of hair
Laser hair removal is a method that uses selective light to penetrate the skin with precision, without damaging it or the surrounding tissues.
Advantages of laser hair removal
Laser hair removal has several advantages over other traditional hair removal methods.
Long-lasting, time-saving hair removal.
First of all, it delivers long-lasting results. Unlike waxing, shaving or depilatory creams, laser hair removal targets the hair follicles directly to destroy them, thereby reducing hair regrowth significantly.
This means less hair in the long term and less time spent on hair removal.
A safe and reliable option
Another major advantage of laser hair removal is its precision. The beam of light can be adjusted to zero in on dark hairs while preserving the dermis.
This reduces the risk of skin burns or irritation, making laser a safe and reliable option for hair removal.
Finally a solution against ingrown hairs
Permanent laser hair removal delivers excellent results on areas with ingrown hairs. As the hairs are destroyed gradually, this type of lesion will disappear naturally over the course of sessions.
A cost-effective solution
Finally, laser hair removal can also be more economical in the long term. Although the initial cost may seem higher than other hair removal methods, laser hair removal sessions reduce hair regrowth significantly.
This means fewer regular visits to the beautician or the use of expensive hair removal products over the long term.
To recapitulate, the advantages of laser hair removal include long-lasting results, higher precision and greater efficiency, plus long-term savings. These advantages make it an attractive option for those who want to get rid of unwanted hair in an effective and practical manner.
Principle of laser hair removal
This non-invasive procedure uses a concentrated beam of light to zero in on hair follicles and destroy them.
The energy from the laser is absorbed by the melanin present in the hair. This heats and damages them selectively, without affecting the surrounding skin.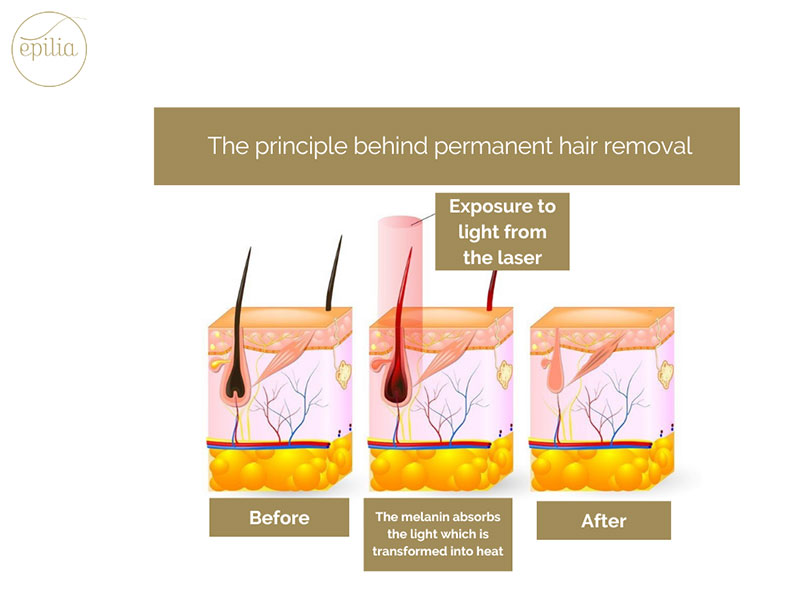 In other words, the light from laser hair removal is transformed into heat to eliminate the hair root. The bulb is thus eradicated, and the hair can no longer grow back. 
The number of sessions required depends on several factors and the physiology of each person.
Laser hair removal for men and women: a solution for the whole body
Permanent laser hair removal is for both men and women who want to get rid of hair for good.
We offer laser hair removal sessions for all areas of the body for aesthetic or therapeutic purposes (ingrown hairs, folliculitis, etc.) in all our Epilia centres.
Caution and information: what type of laser?
Before choosing a laser treatment, it is important to find out about the hair removal technique or even the type of laser used.
Not all lasers are created equal. Some are not suitable for all hair or skin colours, while others can be ineffective over the long term, or even hazardous to health.
Caution and information are therefore essential.
To find out more, read our article on the different types of laser.
Laser hair removal and Intense Pulsed Light (IPL) hair removal: what are the differences? Which one to choose?
Often mistaken for one another, laser hair removal and Intense Pulsed Light hair removal are two very different methods in terms of both safety and effectiveness.
IPL hair removal uses several types of light.
They are weaker and less targeted than laser hair removal, which considerably reduces their effectiveness. The results are consequently short-lived and transitory, since they only weaken the hair follicle.
The laser, on the other hand, emits a more intense and selective beam of light that destroys the hair bulb to deliver truly permanent hair removal.
Alexandrite laser by Candela
You will find the Alexandrite laser by Candela, the undisputed expert in lasers for dermatological and aesthetic purposes, in all Epilia centres.
A semi-precious stone, Alexandrite is used to filter the light (wavelength of 755 nanometres), which is then absorbed by the melanin in the hair. This ensures precise penetration of the beam of light without high intensity.
Scientific studies confirm that Alexandrite is currently the laser that delivers the most convincing results on fair to intermediate skins.
At Epilia, we combine the Alexandrite laser with the Zimmer. This is a cooling system that provides an anaesthetic effect for your comfort during treatment sessions.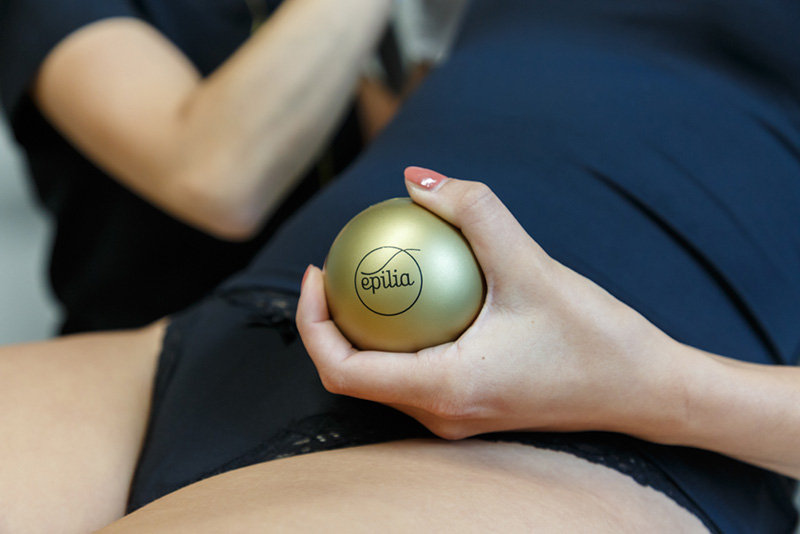 At Epilia, your safety is our priority
At Epilia, we have chosen cutting-edge technology because it is effective and above all safe for human health.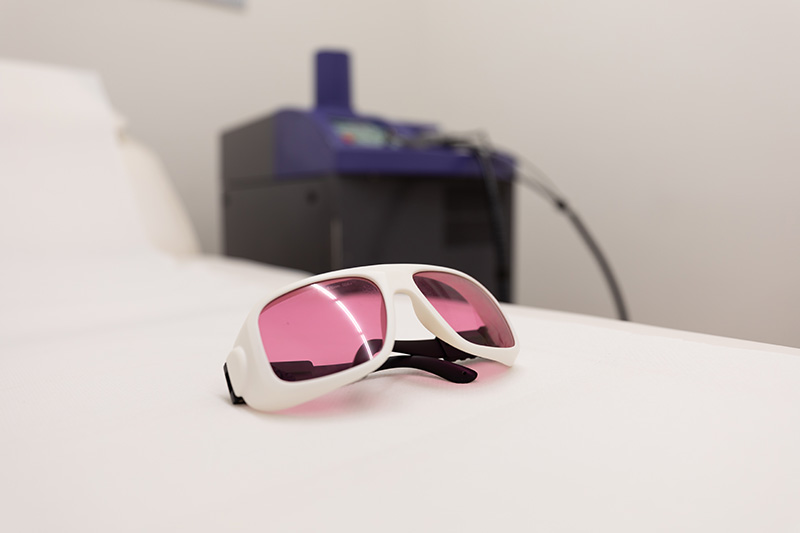 Our class 4 laser is a professional instrument for controlled use.
It is reserved exclusively for accredited centres like Epilia.
All our laser practitioners are experts in the field.
We have been practising laser hair removal exclusively for almost 10 years.
The Alexandrite laser is recommended for:
Men and women looking for everyday comfort.
Hair removal from the face and body in complete safety.
Treating ingrown hairs.
Obtaining soft, clear skin.
Fair to intermediate skin phototypes.
Opt for laser hair removal for a long-lasting and practical solution
Laser hair removal is a safe, effective and long-lasting method for getting rid of unwanted hair. With this advanced technology, you can say goodbye to razors, painful waxing and repetitive hair removal.
Laser hair removal delivers long-lasting results by targeting the hair follicles, thereby reducing regrowth for long-lasting silky smooth skin.
Stop wasting time with temporary methods and enjoy the many advantages of laser hair removal.
Book your initial consultation free of charge without any obligation.