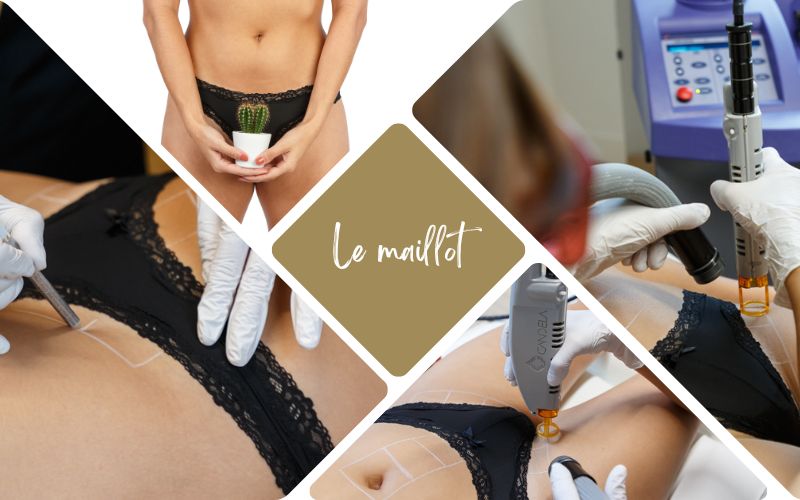 Want to hit the beach? But…you need to do your bikini line. You don't want to go through the same process this summer (or the summers to come) and are considering permanent laser hair removal for your bikini line.
However, this decision requires some consideration. What are the advantages? Which area you should treat? How much will it cost? Your Epilia centre can provide all the information you need about laser hair removal for the bikini line.
The advantages of laser hair removal for your bikini line
You're not sure whether to book in for permanent hair removal for your bikini line? However, laser hair removal is much simpler than cosmetic treatments. So to help you decide, we have created a list of some of the advantages.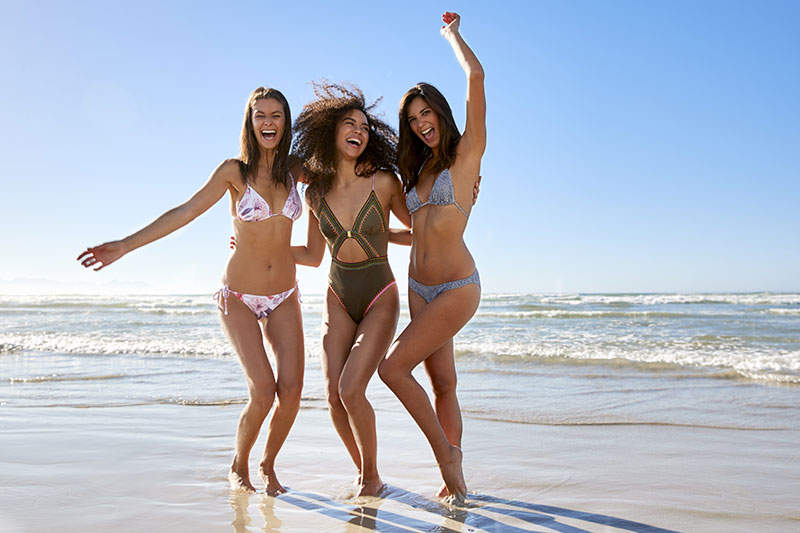 You read that right, laser hair removal for the bikini line improves your self-esteem! Indeed, according to an Ipsos study, 81% of women feel more comfortable and find their skin softer after one hair removal session. Moreover, for 65% of those interviewed, this also increases their feeling of self-confidence.
You no longer need to worry about unwanted hair before going to the beach, pool or even with your partner… Everyone wants something that makes them feel happier, wouldn't you agree?
We mustn't forget to mention that laser hair removal is an excellent solution for getting rid of unwanted spots, irritations and ingrown hairs, which are very common in the bikini line area.
Does that surprise you? But, do you have an idea of what your annual cost of home waxing or razors might be? Or perhaps the hair removal sessions at your beauty salon? You could expect something in the region of €5,000 to €40,000 throughout your lifetime (source: Ipsos).
So, yes, laser hair removal sessions will end up costing you less than other hair removal methods. Even if the cost per session initially seems high.
When you start your treatment at Epilia, your laser technician will provide all explanations to any queries concerning laser hair removal as well as a quote. So no nasty surprises, you know exactly what you'll be paying at each of your sessions. Our rates are priced as fairly as possible to allow everyone to benefit from permanent hair removal.
Would you like to combine bikini line hair removal with other areas? We are pleased to offer packages.
See all our prices here: laser hair removal prices and packages.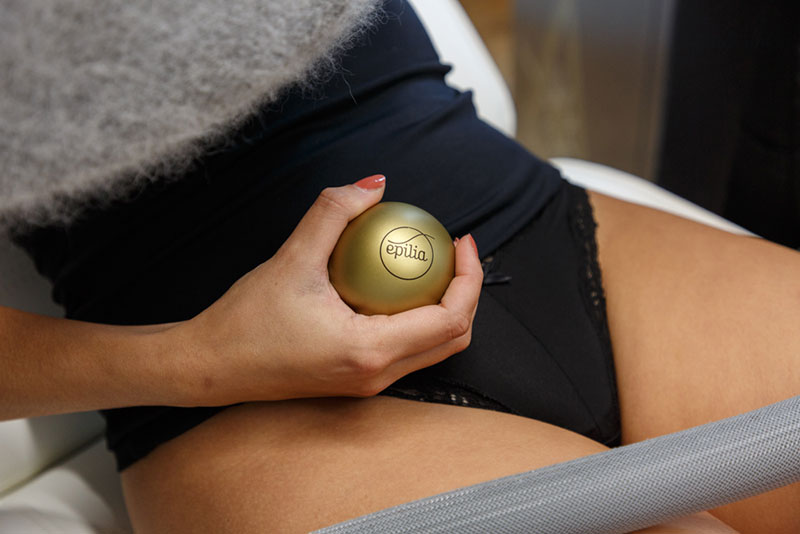 Do you know how long a woman spends on hair removal on average? Between 1 hr 8 mins and 2 hrs 28 mins per month, according to the Ipsos survey. All this time that you can't spend doing your daily activities.
A laser hair removal session for your bikini line lasts approximately 25 minutes. The sessions will be spaced 6 weeks apart at the start (and even more when your treatment is well on its way). So you will still save a significant amount of time on hair removal.
Moreover, at the end of your laser hair removal treatment, the majority of your hairs will have disappeared (and there will just be a light fuzz that remains). Freedom will be yours!
Would you like to know more? Read our article: "Do you know how much you are spending on your hair removal routine?"
Which bikini line areas can be treated with laser hair removal?
Because we are all different, Epilia centres offer tailored-made hair removal according to your wants and needs.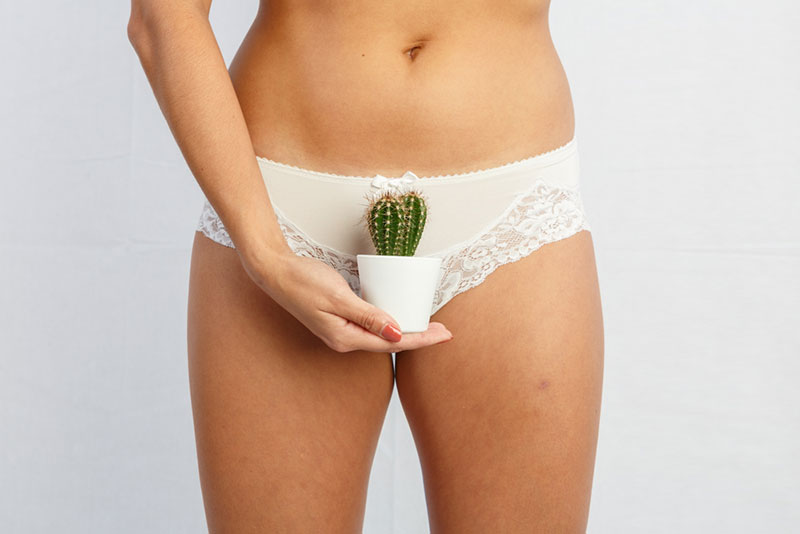 Classic bikini line hair removal
For ladies who would like neat hair removal for going to the beach, but without doing too much, this is the classic bikini line hair removal.
You keep your underwear on throughout the treatment. This way, you can enjoy the benefits of bikini line laser hair removal in a modest way.
The hair around your groin will be treated in a band of approximately 2 cm wide on either side of your underwear. The laser will not come into contact with your pubic hair with this type of hair removal (classic bikini line).
Extended bikini line hair removal
If the classic bikini line option is not for you… Would you like to remove more hair from the bikini line area without having to think about which underwear to wear?
Your laser technician will ask you during your initial consultation about the exact area you would like to treat. You choose the amount of hair you would like to keep. Your laser technician will meticulously trace the line you want. To do this, you will need to undress so that the area to be treated can be seen.
With this package, hair is not removed from the labia.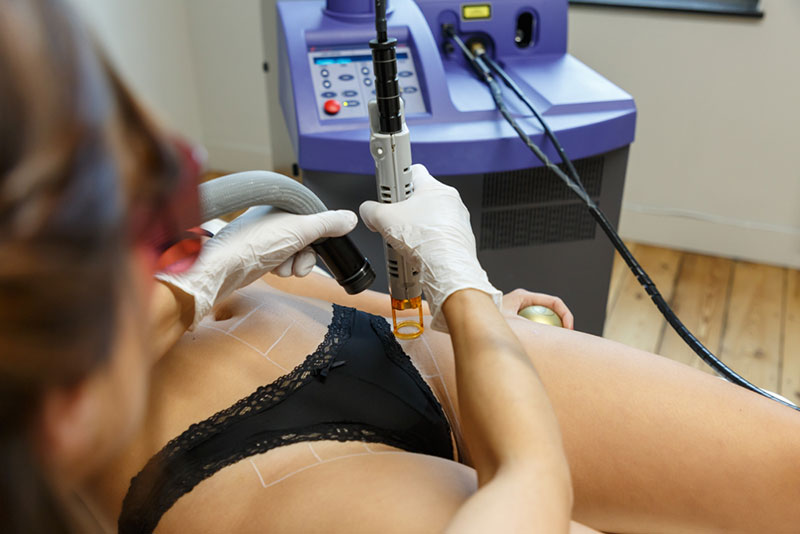 Full bikini line hair removal
Would you prefer to have full or semi-full bikini line hair removal, including the labia majora? It is entirely possible to remove all the hair or leave a small area of pubic hair. The hair on the labia will also be treated fully. It is important to note that on the labia, as the hair is much finer and the skin is often slightly darker, some hair may remain at the end of the laser hair treatment protocol.
Please note, the gluteal cleft (thong line) is treated separately to bikini hair removal. If you would like laser treatment for this area, please mention this during your free consultation.
Genital area hair removal
In our Epilia centres, we offer two packages for genital area hair removal. With the first, your laser technician will treat the hair present on your testicles and the base of your penis.
Why just these two intimate areas? Because, this is the area where the greatest concentration of hair is found on men.
Of course, if you wish to also treat the gluteal cleft, this can be arranged during your initial consultation, with one of our packages.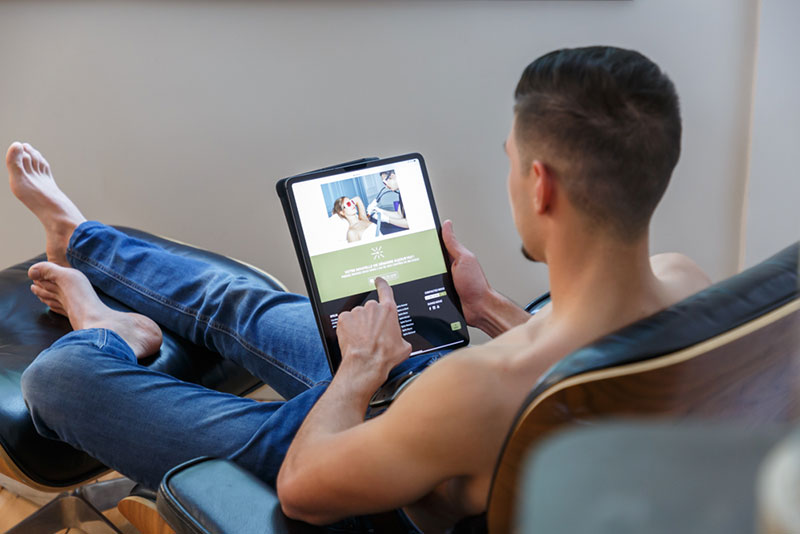 Full pubic/genital area hair removal
Is the "genital area" package not for you?
If you would like to get rid of all unwanted hair and would prefer a full pubic/genital hair removal treatment…
We are pleased to offer you the "full pubic/genital hair removal" package. This package includes the testicles, the base of the penis and the pubic area. This will give you softer skin for your own comfort and that of your partner.
Please note: the results for men are not the same as for women.
Given that men have high levels of testosterone in their bodies, this can cause hair to regrow. We are able to guarantee a significant improvement in the quality of the hair and a decrease in the amount of hair. This affords men greater everyday comfort.
Your bikini line laser hair removal session
Of course, at your initial consultation we will take the time to understand your requirements and answer all your questions. During this consultation, no treatment will take place.
You will find out about the laser hair removal technique and the equipment used: the Alexandrite laser by Candela (one of the best lasers on the market for aesthetic laser hair removal).
Our laser is combined with the Zimmer device, a technique to cool the skin, making the session more comfortable and decreasing the tingling sensation caused by the laser.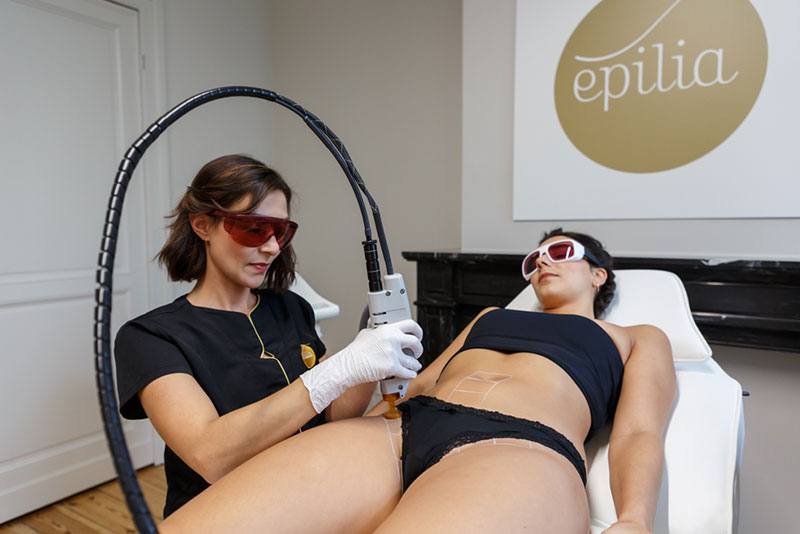 As for all other body parts, the bikini line must be free from any jewellery or objects. If you have any, please remove your piercings.
Please also note: if the treatment area has a tattoo, then this will be covered and worked around.
Tanned skin cannot be treated with the laser. Indeed, skin that has been exposed to the sun or UV rays is at risk of burns. Therefore, please consider starting your permanent hair removal when your skin is completely untanned.
What do you need to know before permanent hair removal?
Here are some recommendations to be followed before your laser sessions:
Sun, UV exposure and self-tanning lotions are prohibited on the areas to be treated.
Avoid wearing new, unwashed underwear.
Emla type anaesthetic cream is not permitted. Your ability to feel sensations during the session plays an important role in determining the optimal power of the laser and can prevent the risk of burns. Any kind of anaesthetic cream will consequently inhibit this sensation.
It is appropriate to shave or clip hair shortly before the session so that the hair is short (maximum 1 mm). This instruction will be given to you during your initial consultation.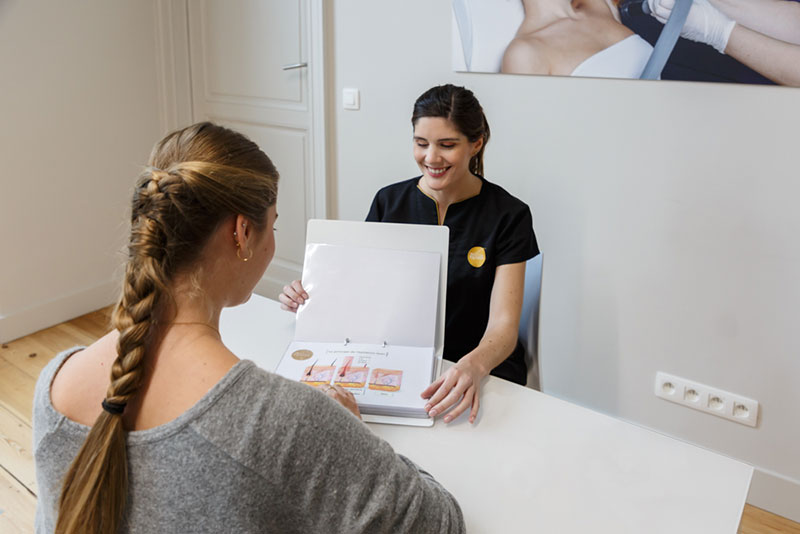 What should you do after a laser hair removal session on your bikini line?
We advise you to follow these recommendations after each appointment:
Avoid all exposure to sun in the entire area treated.
Follow the shaving rules provided by your laser technician.
Moisturise and exfoliate your skin.
You may feel some warmth in the area treated after each session. Please be assured that this is completely normal. However, if it persists for several days after your session, please feel free to contact us.
How many sessions are required for bikini line laser hair removal?
During your initial consultation, the laser technician will provide you with a quote including the price for the area (or package for multiple zones) you wish to treat. At Epilia, you pay at the end of each session. This way, you can spread your costs over several months. At Epilia, there are no nasty surprises, you don't pay a subscription.
From the very first session, you will see the effects of the laser hair removal process. The number of sessions required depends on several factors, including physiology and the expectations of each person. As a result, it is impossible to predict in advance with accuracy how many sessions will be required to achieve the expected results.
Now you have all the information on bikini line hair removal, don't delay – book your session at one of our Epilia centres.